Third Annual Lynn PD Ride-to-Remember North Shore Training Ride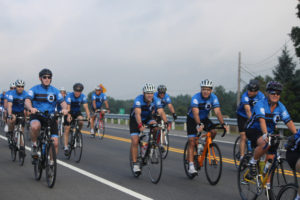 On Saturday, July 29th at 10:00 A.M. the Third Annual North Shore Training Ride will begin!!
Riders meet at "Christie's Restaurant" parking lot located on Lynn Shore Drive at the Lynnway in Lynn, MA. All riders must wear their official Ride-to-Remember bicycle jersey to take part in this training ride.
The ride will begin promptly at 10:00 a.m. and we ride along the shore. We go through the
following towns on the North Shore:
Lynn
Nahant
Marblehead
Salem
Beverly
Hamilton
Ipswich
Newbury
Newburyport
Salisbury … then into New Hampshire ending in Rye.
The total ride is about 70 miles.
The ride is fully supported and we will fix your flats. There are two awesome rest stops where you will be fed an hydrated. The end of the ride is on North Beach in Hampton, NH. You will
enjoy an awesome BEACH PARTY for you and your entire family. You will be fed like a king or queen!
Beer and alcohol is provided with a changing area. Awe have trucks following us the entire way so you can store all your gear and change of clothes!
The ride is amazing and you will see some fantastic sights along the way!
The cost for this fundraising ride is ONLY $25.00!!! Pay the morning of the ride in Lynn!!!
To be part of this once in a lifetime ride please e-mail the R2R Ride Director John Delaney at
jacksdad4@gmail.com Please do so ASAP so we can make plans for your food and transportation.
You leave your cars at "Christie's Restaurant" in Lynn where it will be watched all day. Lynn PD
has provided buses and bike transport for you after the beach party!!!
If you have any questions please call or text Sgt. John Delaney at 413-265-8255